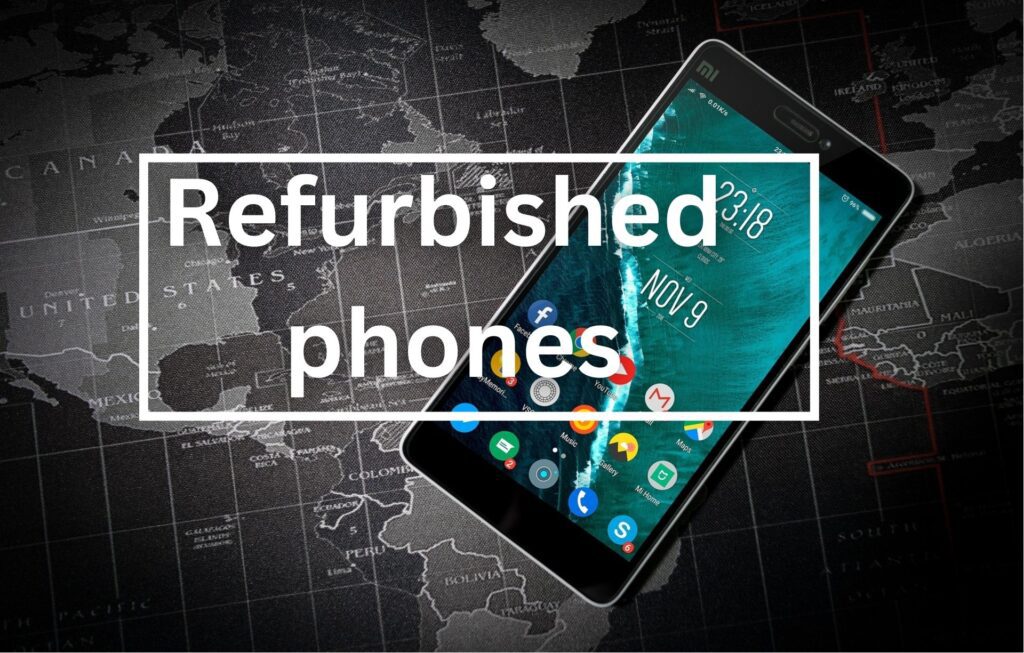 You've probably heard of refurbished phones before. They are phones that have been returned by customers, repaired by professionals, and resold at a lower price. They sound like a great deal, right? You can get a phone that works like new but for a fraction of the cost. But are they safe to buy? And what about buying them from Amazon, one of the largest and most trusted online retailers in the world?
In this article, we will dive into the question: Is it safe to buy a refurbished phone from Amazon and find out the pros and cons of buying them from Amazon? We will also give you some tips on how to choose a quality and reliable refurbished phone that suits your needs and budget. Whether you're looking for a new phone for yourself or a gift for someone else, this article will help you make an informed decision. Let's get started!
Is it Safe To Buy a Refurbished Phone From Amazon?
Yes, it is safe to buy a refurbished phone from Amazon but you should check a few things before buying a refurbished phone. Read the article completely to know all the things in detail.
Before buying refurbished phones which are also called renewed phones on Amazon. You should know the actual meaning of a refurbished phone.
What Is a Refurbished Phone? 
Basically, a refurbished phone or renewed phone is a phone which is returned by a customer due to some minor issue. So it is a slightly damaged phone which is restored by the manufacturer or any third-party seller into a fully functional state. The whole process of renewing or refurbishing the phone includes cleaning and repairing the damaged parts and making the phone fully functional to deliver the same performance as a new phone.
What are things to keep in mind while buying a refurbished phone from Amazon?
As I mentioned above☝️, there are a few things that you should always check before buying a refurbished phone from Amazon. Below given are their details:
Warranty Period
After buying a refurbished phone, if your phone gets damaged or defective😞. Then the only thing that can save you is a warranty☺️. So before purchasing, always check the warranty period. If the phone comes with no warranty then strictly avoid ❌buying it.
If you are purchasing the phone📱 from Amazon then they generally offer you 6 months of warranty on their renewed phones. But don't forget to check the details🕵️ before buying.
Return Policy
So when you receive your order and if you got a defective or damaged phone then you can be in trouble🥴. In order to avoid such trouble only buy refurbished products or any other products that have a return policy.
If the seller is not offering a return policy to you then I strictly recommend you to not❌ purchase such products.
Customer Reviews About The Product And Seller
For those who don't know about seller reviews🤔. Let me tell you that there are two types of reviews that you can check on a product page.
One is product review which is obviously the review about the product 😄. It gives you a fair and unbiased opinion about the phone which helps you to make an informed decision.
Also Read: Is Amazon Pay Later Safe? How Can You Use It Safely?
And seller review is the review of the seller. This tells you how the seller has delivered his products and services in the past.
To see the review of the seller you just need to scroll down and you will find the seller's name as shown in the screenshot👇.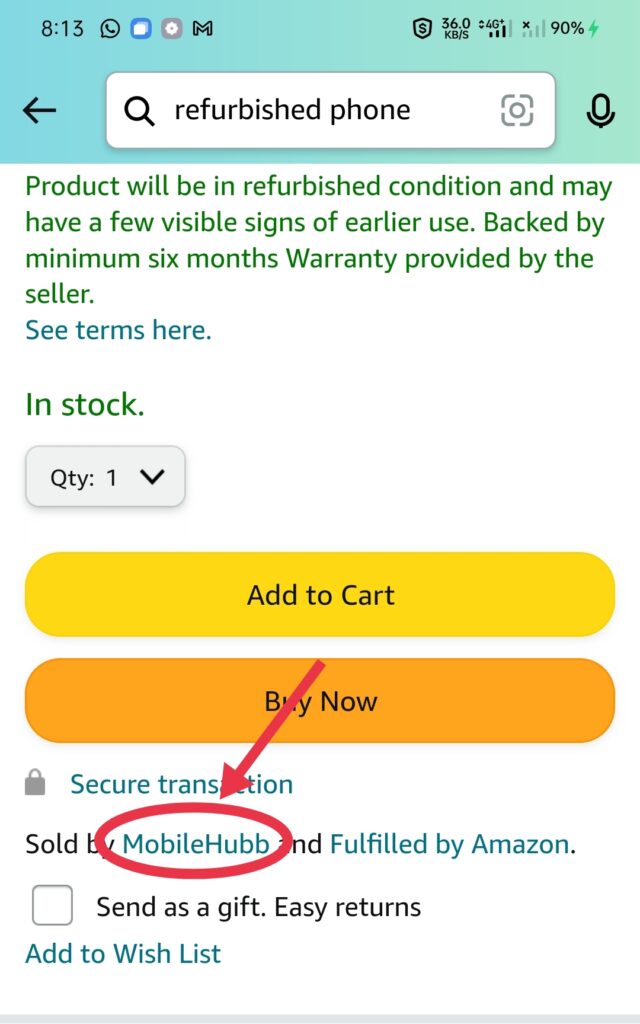 Tap on the seller's name and you will be able to see the complete detail and ratings⭐ of the seller as shown in the screenshot below. This is included here just to help you😊.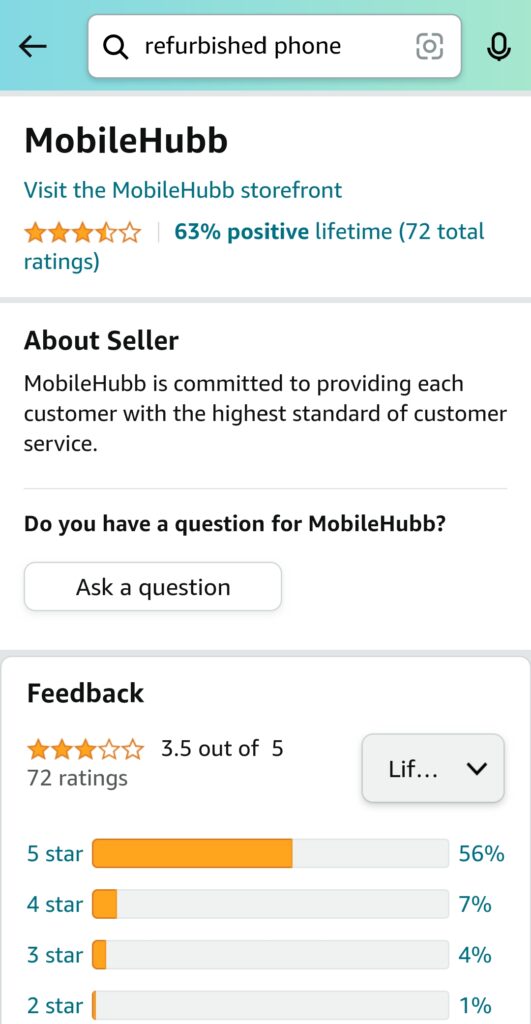 Price and Discounts
I know that most of you want to purchase the renewed phones because they are cheaper than the actual new phone. So you must compare the pricing of the renewed and the brand-new phone.
If you are getting a big discount then only you should purchase the renewed one. Also, don't forget to check for other offers which may help you to avail of some more discounts on the phone. Generally, you will see some discounts on bank cards.
Related: Are cheap smartwatches worth it?
What are the advantages of refurbished phones?
Refurbished phones indeed offer you some advantages which are listed below:
Pricing: Refurbished phones are often available at a much-discounted price than the actual price of the phone.
Environmental Friendly: By buying a refurbished phone you are contributing to decreasing the e-waste in our environment. If you don't know then let me tell you that e-waste is one of the most concerning issues for our environmental health.
What are the disadvantages of refurbished phones?
There are certain disadvantages of refurbished phones which are mentioned below:
Lack of availability: Refurbished phones are not available for all the models, especially for the newer ones.
A potential risk: Even if the phone is renewed by the experts, still there can be some chances of malfunctioning of the phone, which cannot be ignored. So always purchase the renewed phone which comes under a warranty.
Not ideal for gifting: In my opinion, if you are purchasing a phone to give some then always go for a brand new phone. As there is a different and unique experience of unboxing a brand new phone which you all know.
Now, you are aware of the advantages and disadvantages of purchasing a refurbished phone that help you to make an informed decision. However in conclusion I have shared my own opinion with you.
Related: Best SmartWatches Under $100 in 2023
Conclusion: Refurbished Phones From Amazon
So, its time to conclude the answer to the question: Is it safe to buy a refurbished phone from Amazon? By reviewing all the facts and information I came to a conclusion. It is safe to buy a refurbished phone from Amazon. But you should only purchase a refurbished phone if you are getting a phone:
At a much-discounted price
With at least 6 months of warranty
Also, verify the accessories that are offered to you with the phone. Especially the charger, as it is very necessary to charge your phone with a trusted and authentic charger. If you are getting all these things then refurbished phones are worth buying.
I explored Google 👀 and I found out some of the most frequently asked questions by people about refurbished phones. So check✅ them as well as they can be helpful for you as well.
Frequently Asked Questions
1. Is it reliable and safe to purchase a renewed or refurbished iPhone from Amazon?
Yes, it is safe and reliable to purchase but you should check the details which I have mentioned above.
2. Do Amazon refurbished phones have a new battery?
Yes, amazon refurbished phones typically have new batteries. But if you have any doubts then you can contact the help center of Amazon to clarify your doubts.
3. Can refurbished phones have viruses?
No, as refurbished phones are inspected, tested, and cleaned by experts to ensure their proper functioning.
4. What is the difference between pre-owned and refurbished?
There is a difference between pre-owned and refurbished products.
Pre-owned items are simply products that are previously owned by some person. They need not be inspected, tested, and cleaned before selling.
But refurbished products are inspected, tested, and cleaned by the refurbishers to ensure that they function like brand-new products.