Amazon Pay Later payment service is offered by Amazon that allows you to buy products on its platform and pay for them later in monthly instalments or next month. It sounds like a convenient and attractive way to shop, but is Amazon Pay Later safe? In this article, we will explore how Amazon Pay Later works, what are its benefits and drawbacks, and how to use it wisely and responsibly to avoid any risks.
Is Amazon Pay Later Safe?
Amazon pay later may or may not be safe for you. You will have to consider various factors for this. Some of factors you should carefully analyse are:
Understand what Amazon Pay later actually is?
Benefits of Amazon pay later
Risks involved in Amazon pay later( or any buy now pay later services) and
Lastly you need to learn that how you should use Amazon pay later safely.
What is Amazon Pay later?
Amazon Pay Later is a pay later service offered by Amazon in partnership with their partner banks. It allows customers to make purchases on Amazon without having to pay for them at the time of purchase. Instead, customers can choose to pay for their purchases at a later date, typically within a month.
To avail this service, you have to apply for this service and your application must get approved. After approval, customers can make purchases on Amazon and select Amazon Pay Later as their payment option to make payment. After the purchase you will receive an invoice of your purchase, which you can pay off in full or in installments.
Benefits of using Amazon Pay later
Using Amazon Pay Later can have several benefits for consumers, including:
Convenience: Amazon Pay Later allows customers to purchase items now and pay for them later, which can be helpful for those who need to make a purchase but may not have the funds available at the time of purchase.
Flexibility: With Amazon Pay Later, customers can choose to pay for their purchase in full or in instalments. This allows customers to spread the cost of their purchase over a longer period of time, making it more affordable.
No interest or fees: Amazon Pay Later does not charge any interest or fees on purchases, as long as they are paid off within the agreed timeframe.
Keep track of payments: Amazon Pay Later offers the option to set reminders for upcoming payments, which can help customers stay on top of their payments and avoid late fees.
Risks involved in using Amazon Pay later service
There are risks involved that buyers should be aware of before using this service.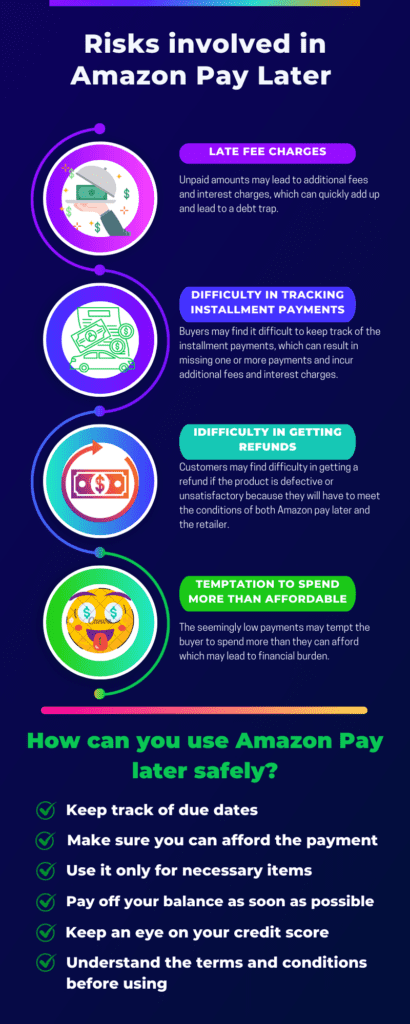 Late Payment Fees and Interest Charges
Unpaid amounts may lead to additional fees and interest charges, which can quickly add up and lead to a debt trap. Detail of late payment charges are given below.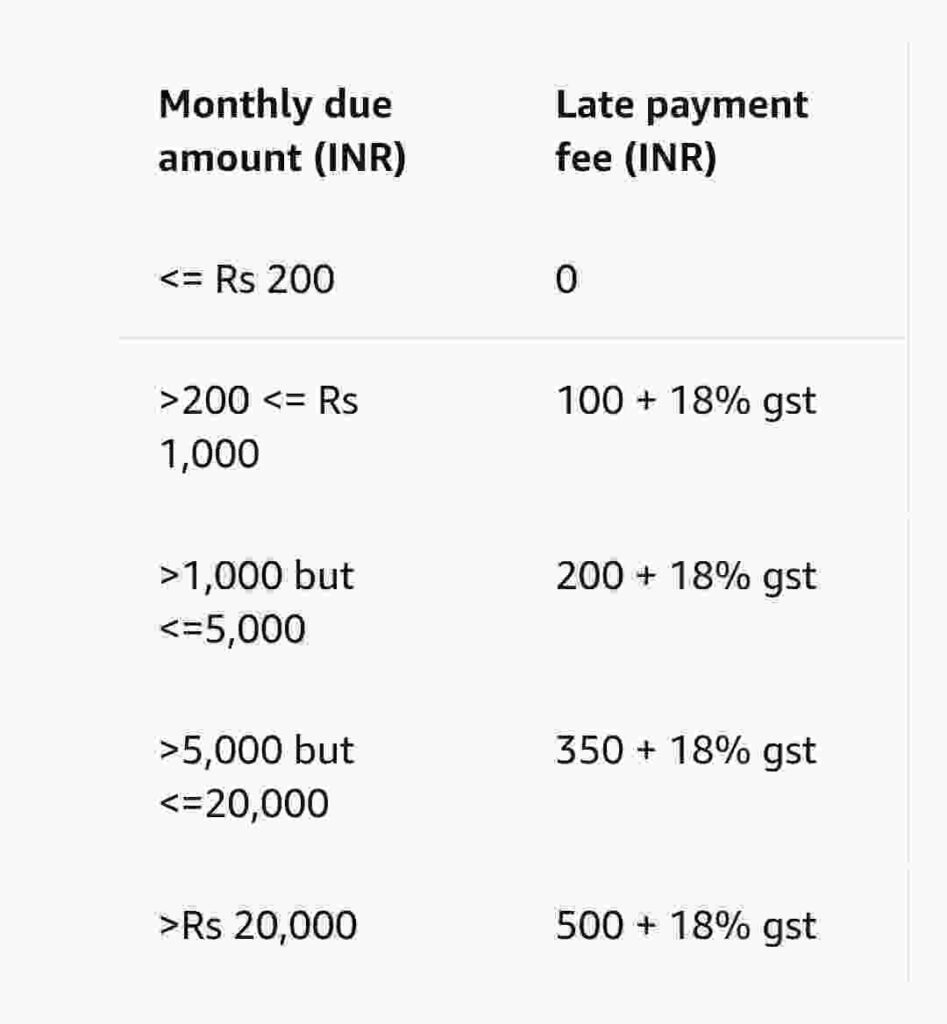 Late payments may be reported to credit agencies, which can lower the buyer's credit score and lead to higher interest rates or loan rejections in the future.
Difficulty in Tracking Installment Payments
Buyers may find it difficult to keep track of the installment payments, which can result in missing one or more payments and incur additional fees and interest charges.
Difficulty in Getting Refunds
Customers may find difficulty in getting a refund if the product is defective or unsatisfactory because they will have to meet the conditions of both Amazon pay later and the retailer.
Temptation to Spend More than Affordable
The seemingly low payments may tempt the buyer to spend more than they can afford which may lead to financial burden.
But you can save yourself from these risks by following the below mentioned tips.
How can you use Amazon Pay later safely?
Tips for Using Amazon Pay Later Effectively:
Make sure you can afford the payments: Before you use Amazon Pay Later, ensure that you will be able to afford the payments in the future. Not being able to make payments on time can result in late fees and damage to your credit score.
Keep track of due dates: Keep track of the due dates for your payments and set reminders for yourself, so you don't miss any payments.
Understand the terms and conditions: Make sure to read and understand the terms and conditions of Amazon Pay Later before you use it.
Use it for necessary items: Use Amazon Pay Later for necessary items like household essentials or appliances, rather than using it in fancy purchases.
Pay off your balance as soon as possible: If possible, try to pay off your balance as soon as possible to avoid any interest or late fees.
Keep an eye on your credit score: Keep an eye on your credit score, paying off the balance and making payments on time can help your credit score.
By following these tips, you can use Amazon Pay Later effectively to make purchases without straining your budget.
How To Cancel Amazon Pay Later Account?
If at any point while using Amazon Pay Later you feel that this service is not worth for you then you can cancel it too. Here's how you can cancel your Amazon Pay Later Account.
There are different steps involved in canceling Amazon Pay Later depending on your lending partner. Here is a brief summary of the steps:
Contact Amazon Customer Care and request them to permanently close your Amazon Pay Later account. This is the easiest method. You can use the call or chat option available on their website or app.
Contact your lending partner (either Axio or IDFC First Bank) and request them to close your account. You may need to send an email or call them with your details and credentials. You can find their contact information on their websites or on your loan agreement.
Now some people have some general questions about Amazon pay later that I have covered below.
Does amazon pay later affect cibil score?
Yes, Amazon Pay later can affect your CIBIL score. But how exactly it will affect you CIBIL score is given below:
When you apply for Amazon Pay, Amazon will fetch your CIBIL score to determine your creditworthiness. Based on your credit score and income source they approve or decline your application. This credit check will be reported in the records of credit bureaus, and it will reflect on your credit report.
If your application gets approved, it will be recorded in your credit report positively, which can improve your credit score. However, if you miss any payment or default on your payments, it affects your credit score negatively that can decrease your CIBIL score. 
So it is important for you to pay the due bills in time if you use a pay later service or credit card to ensure that it doesn't negatively affect your credit score. If you don't know the difference between a pay later service and credit card then you don't need to worry. I have covered this for you in the questions given below.
Some people have a very similar question: Does Amazon Pay later increase credit score? I hope you would have understood why it is so. But if you still have any doubt then you can definitely refer to the question given below else you can skip this question. 
Does Amazon Pay later increase credit score?
Yes, Amazon pay later can potentially increase your credit score. But it is important to note here that it can decrease your credit score too if you don't use it wisely. 
If you consistently make full payment in time. Then it will reflect positively on your credit report and will help you to improve your credit score. On the other hand, delayed payments or defaults on payments will have an adverse effect, which can decrease your credit score. 
Here, you should also know that credit scores are not the only factor considered by lenders when assessing creditworthiness. Your overall financial situation such as your income, employment etc. is also considered. You should also keep this in mind that it takes time to build a good credit score. So it's important to follow good credit habits to maintain your CIBIL score and creditworthiness. 
Is Amazon Pay later only for prime members?
No, Amazon Pay Later is not exclusively for Prime members. It is available for all the eligible customers in India. If you are eligible then you can easily take advantage of this service. 
So to give you a clear understanding, let me tell you that Prime membership is a separate service offered by Amazon. This service includes benefits such as free and fast shipping, TV shows, exclusive access to some movies, ad free music, exclusive deals, and many more. 
Now the next question that might be coming to your mind is: 
Who is eligible for amazon pay later? 
If you match the below given criteria then you are eligible to apply for Amazon Pay later: 
You should have an account on Amazon.in with a verified mobile number.

a valid PAN card

You should have a bank account

Officially valid document as address proof. You can give any of the following documents:

 Driving license, 

Voter ID card, 

Aadhaar,

Utility Bills (not older than 60 days), 

Passport.

You must be 23 years of age or older

Further eligibility is decided based on your information already available with Amazon and your credit score.
Based on these criterias, the lending partner ( partner banks) will decide to approve or reject your application. Once approved, you will get a credit limit which you can spend in a month. 
Is Amazon Pay later a credit card?
No, Amazon pay later is not a credit card.  It is a buy now, pay later service offered by Amazon that allows you to make purchases on Amazon with a benefit to pay for them at a later date.
On the other hand you can simply consider a credit card as a type of loan that allows you to borrow money from a bank or financial institution to make purchases. Credit cards usually have a credit limit that you can use to make purchases and you can pay that bill later. ( The time of bill payment of your credit card generally depends on the bank which has issued the credit card.)
Amazon also offers a credit card in partnership with ICICI BANK. Click here to know about Amazon pay ICICI credit card in detail.
Is Amazon Pay later interest free?
Yes, Amazon Pay Later is interest-free if you choose to pay for purchases within the due date mentioned in the invoice. However, if you choose to convert your payment in EMI then you will be charged interest (if no cost EMI is not available in that purchase). 
The interest rate that will be charged for EMI services will be  shown to you in the payment page. 
So now, it must be cleared that you don't  need to pay interest if you make its payment within the due date. If you choose to convert the purchase into EMI, then you will be charged interest as per the bank's interest rate. And in case you don't pay the due bill with the time and also fail to convert that payment into EMI. Then you will have to pay the penalty which can be understood from the table given below:
Where can we use amazon pay later?
Amazon Pay Later can only be used to make purchases on Amazon. You can pay for the shopping bill made on Amazon. You can also pay your utility bill on Amazon such as mobile recharge, broadband bill, electricity bill and other bills through Amazon Pay later. 
Some of the related questions are:
Can we use amazon pay later for fuel?
No, you can't use Amazon Pay later for fuel as you can only use this for making payment on Amazon. 
Can I use Amazon Pay later on Petrol pump?
No, you cannot use Amazon Pay later on Petrol Pump as this can't be used outside Amazon. 
Does amazon pay later require a credit card?
No, you don't require a credit card to apply for Amazon Pay later. You just need to fulfill the criteria mentioned in the article. 
Conclusion: Is Amazon Pay Later Safe?
I hope this article would have answered all query related to Amazon Pay Later. Now you are in a position that you can himself determine: Is Amazon Pay later safe for you or not?
You might be Interested to Read: How to get free for senior citizens?
But if you still have any query  drop them in the comments, I will answer them soon.
One request: If you liked this article and if this article is informative then don't forget to drop your valuable suggestions in the comments.