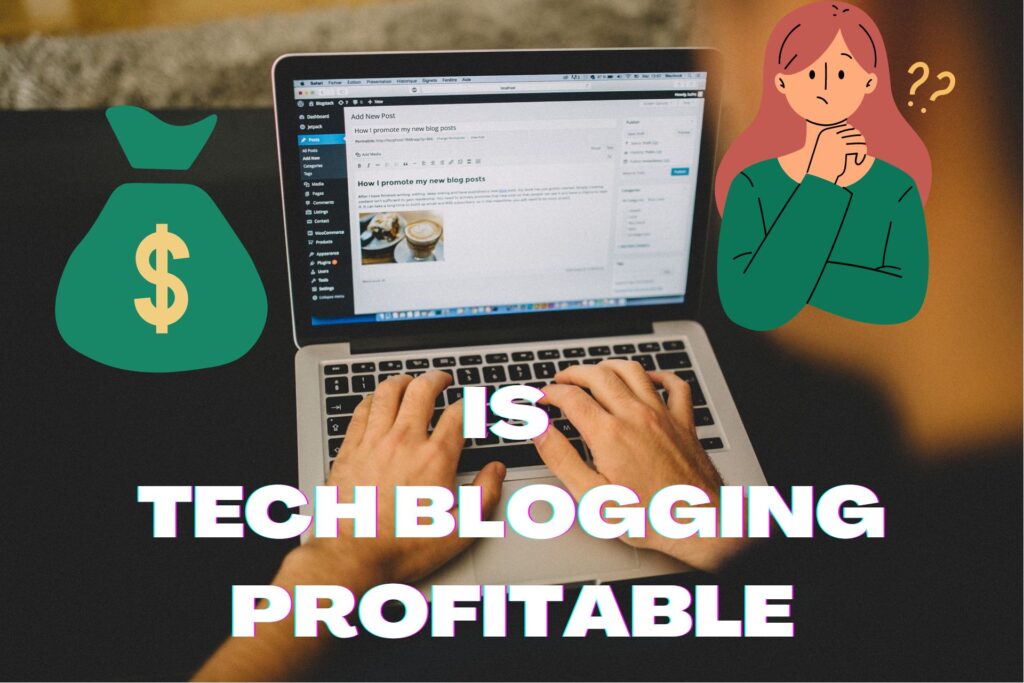 Yes, a tech blog is highly profitable. But you should keep in mind some of the important things and factors if you want to start a tech blog. 
See, technology is changing very rapidly. So there is lots of new emerging technology. There are many people who love to read about such technologies. So by making a tech blog you can earn a good amount of money. 
Now the next question that might be coming to your mind is.
How much do tech bloggers make money?
You can easily make $200- $300 per month. This is the average amount that you can earn if you are a beginner. 
Some bloggers are even earning more than $1,000 and there is no upper limit of earning it all depends on you.
It's true that if you are beginning then you can't make money from the first month. You will have to invest your time in learning and implementing the right strategies that will help you to succeed in tech blogging. 
As I told you that as a beginner you can make a decent amount of money from tech blogging. But can it really be profitable for you? If it is, then what are the things that you should keep in mind? Read below to get the answer. 
Is tech blogging profitable for beginners? 
Yes, tech blogging is profitable for beginners too. But if you are new to blogging then you need to be a little cautious and aware. Why am I saying so? 
Most of the people who start blogging don't invest their time in learning about the basics of blogging. So most people fail and they spread the rumors that it's very hard to make money from blogging. 
So in order to make money, focus on learning. I had faced a similar problem in the beginning. So I have designed a step by step process for those who want to start blogging. 
If you want to know that then all you need to do is comment below. I will share everything that has made me a successful blogger. 
What are the best topics to cover on a technology blog?
There are many things which you can share through tech blogs. There are various categories in which you can put content. 
It would be better if you start putting such tech content in which you are most interested. Some of the tech categories in which you can put contents are:
Review about new products or softwares
Each day lots of new electronic products and softwares are launched. So you can give your detailed review on that. You should include the major pros and cons of the product that can help the customers to make a wise decision. 
Solve common tech related problems
Most of the people face problems in using their computer and mobile. So you can help them in fixing their problem by writing content on those topics. 
There are many tech savvy people in this world that love to read tech related news. So by reading the latest tech news from different tech websites you can frame an engaging article for them. 
Help people in finding right software and tools
The whole world is becoming digital. Online tools and softwares are making the life of the people easier. But most of the time people are not aware of the right tool.
Sometimes these tools can be as simple as pdf making tools. You can help them by suggesting the right websites and apps. 
If you have a good knowledge of programming languages ( Java, C++, python etc. ). Then you can help others to learn these languages. You can share your tips and experience of learning these languages. 
These are just a glimpse of the categories in which you can start a tech blog. Similarly you can find one for you. If you are having difficulty in finding your niche then comment below. I will help you to choose. 
How to start a tech blog?
By following the 6 easy steps you can start a tech blog: 
Find your niche

Find a good domain name

Choose a good hosting provider (Bluehost, hostinger etc. )

Choose a good blogging platform ( WordPress, blogger etc. )

Set up you blog

Start publishing content
This is an over simplified layout of starting a tech blog. The complete explanation of all these things is not possible in this article. So if you want to get a detailed explanation of all these things then drop your comments below. And I will help you soon.
What are the ways to make money from a tech blog?
There are multiple ways to make money from tech blogs. Some of the most popular ways are as follows:
This is the most common way to earn money from your blog. There are many advertising platforms through which you can show ads in your blog. The most popular ad network is Google adsense. The ads that you are viewing on my website are also from Google adsense.
In simple terms, you will have to join different affiliate network such as Amazon affiliate, Flipkart affiliate etc. Then you can promote the related tech products in your blog. If anyone buys that product from your link (affiliate link) then you get a commission. 
If your blog becomes reputed enough among people then tech brands will approach you to promote their products. And you will be paid for this. 
These are the most common ways. I am not explaining all the things deeply as the article will become too lengthy. I am just sharing a brief overview to you all. 
You can learn more about these things in detail from Google and YouTube where you can find dedicated articles and videos in each of the above topics. 
But if you want to learn from me then you don't need to go anywhere. Just comment below and I am there to help you. 
Conclusion
Now you are very well aware that tech blogging is profitable and many bloggers are earning a lot of money from this. So now you can make an informed decision on whether you should start a tech blog or not. 
Frequently asked questions
Is tech blogging easy?
Yes, tech blogging is easy but you should have keen interest in technology. And you should have the patience and dedication to learn and work. 
Is a tech blog a good career?
Yes, tech blogging can be a good career option for you. Before choosing this as your career you should learn and research about this in detail. 
Should I start a tech blog?
Yes, you should start a tech blog if technology fascinates you and if you want to add value in the life of others through your knowledge of technology.