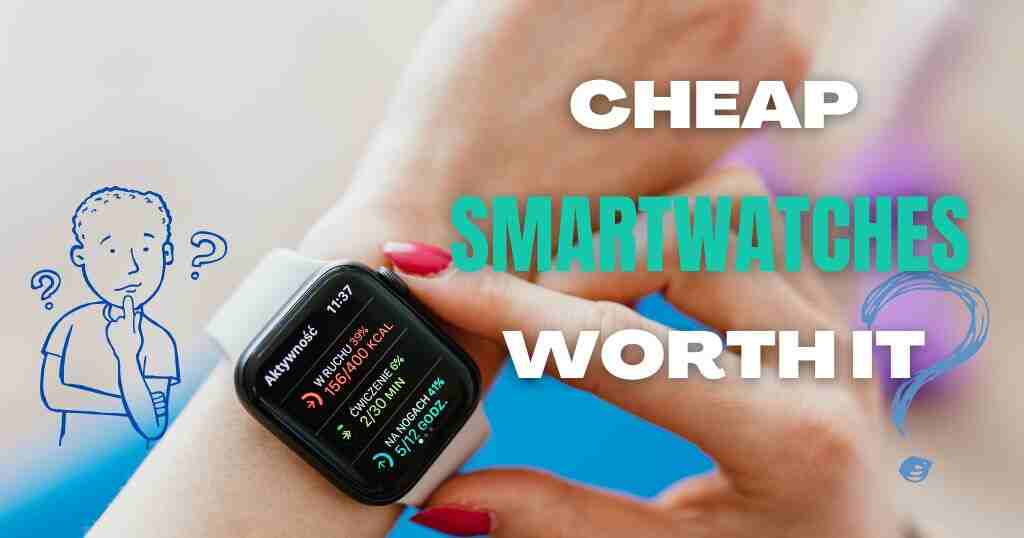 Cheap smartwatches may or may not be worth it for you. It depends on your budget, personal needs and preferences. You should consider the factors given below that will help you to determine its worthiness for you:
Tips to choose the best cheap smartwatch for you
Features: It is obvious that cheap smartwatches have fewer features than more expensive models. This means that the technology that the cheap smartwatches use may not be reliable and accurate. They may not have advanced fitness tracking or GPS capabilities, or may not be able to run third-party apps properly. 
Build Quality: Cheap smartwatches usually don't have the same build quality as more expensive models. They mostly use plastic bodies instead of metal, and may not be as water-resistant or durable. So before buying such watches you should consider how you plan to use the smartwatch and whether or not the build quality will be sufficient for your needs.
Battery life: Battery life is one of the most important factors to consider when buying a smartwatch. In general, cheaper smartwatches often have shorter battery life than expensive ones. So you will need to charge them more frequently.
Brand & Support: When companies offer cheaper smartwatches then they do cost cutting in providing good support and frequent software updates. On the other hand, expensive models from well-known brands offer you good customer support and frequent software updates. So you may have to face difficulty in finding the authorized service center if you buy a cheap smartwatch. 
Price: It's obvious that cheap smartwatches are available at low prices. But you should not consider only one factor while buying. You should only consider a cheap smartwatch only if it meets your needs and has reasonable build quality, and features.
So, I leave the final decision of purchasing to you. If you ask for my recommendation then I would like to suggest that rather than looking for just cheap smartwatch, look for affordable and cheap smartwatches. They are available at value-for-money prices. Below I have given the list of best affordable smartwatches that you should consider under Rs.3000. 
Do cheap smartwatches work?
Yes, cheap smart watches work, but the level of performance and functionality may not be that good. If you are looking for basic features such as notifications, call and message handling, tracking steps and calories, and/or basic fitness tracking, a cheap smartwatch can possibly be a good option for you. But before buying, it is important to research about the specific model and brand before making a purchase. So that you can have realistic expectations about the functionality and performance of the smartwatch. 
Also Read: Best Smartwatches under $100 in 2023 
You may also ask my reviews about a particular smartwatch in the comments below. I will try to help you in making a good buying decision.
As I said earlier, rather than looking for cheap smartwatches, you should go for affordable smartwatches that are more value for money. So below given is the list that you should consider: 
Best affordable and cheap smartwatches under Rs. 3000
I have covered here seven smartwatches under 3000 rupees. These smartwatches are:
Dizo Watch D Sharp, 

Noise Colorfit Ultra Buzz, 

Realme Watch 3, 

Amazfit Bip 3, 

Pebble Cosmos Ultra, 

Boat Storm Pro Call 

and the Fire-bollt Ring 3.
I know some of these watches go from Rs 3000 to Rs. 3500 sometimes but you can get them for under Rs. 3000 in any sale. 
Now one thing to note here is that companies like Noise and boats have many smartwatches under 3000 rupees.  But I have picked the ones that have been launched recently. There are three smartwatches that I cannot recommend so let's just remove them from this list. These smartwatches are:
Fire-boltt Ring 3: The reason is the whole Apple watch UI used in this watch is just sluggish and the fitness tracking is not good enough.
Pebble Cosmos Ultra: Honestly I wanted to add it because I like its metallic design but its app is just outdated. Also, it has major sync issues plus us its blood pressure point is just gimmicky. 
Noise Colorfit Ultra Buzz: As it has a poorly washed-out display with Bad Touch responsiveness. Also slow OS and uncomfortable design
So we finally left with 4 smartwatches- Dizo Watch D Sharp, Amazfit Bip 3, Realme Watch 3, and Boat Storm Pro Call, and all of these are actually pretty decent. But I want to suggest them based on your needs and  requirements: 
best affordable and cheap smartwatch under Rs.3000 for calling

best affordable and cheap smartwatch for Fitness tracking and 

best affordable and cheap all-rounder Smartwatch under 3000 rupees
Of all of these four smartwatches, three of them have calling features. But the Dizo Watch D Sharp does not have a calling feature.
Best affordable and cheap smartwatch under Rs.3000 for calling
All of these smartwatches have decent calling features. But Realme Watch 3 is the best amongst them. The reason is simple and clear, the speaker on the Realme Watch 3 is the loudest. Also, the mic is very clear. So, it's actually good to use for calls. It has strong haptics when you get calls.
Anyway, I'm not recommending the Realme Watch 3 just for calling. There are other factors that are necessary to consider. 
Pros:
Apart from good calling features. The watch has: 
pretty solid design

a responsive UI 

Bold and nice look

realme app is very straightforward and good

biggest battery of 340 Mah(greater than all 4 smartwatches)
Cons:
TFT display is not the best you can get in this price range
If you care about display you should keep reading. But yeah, this is a pretty solid smartwatch which is the best for calling.
Best Affordable and Cheap Fitness Tracking Smartwatch Under Rs. 3000
If you want an affordable and cheap smartwatch in this price range that tracks your workouts, steps, calories most accurately. Then the best option is the Amazfit Bip 3. All the four watches offer you almost the same sensors which you can see in the figure below: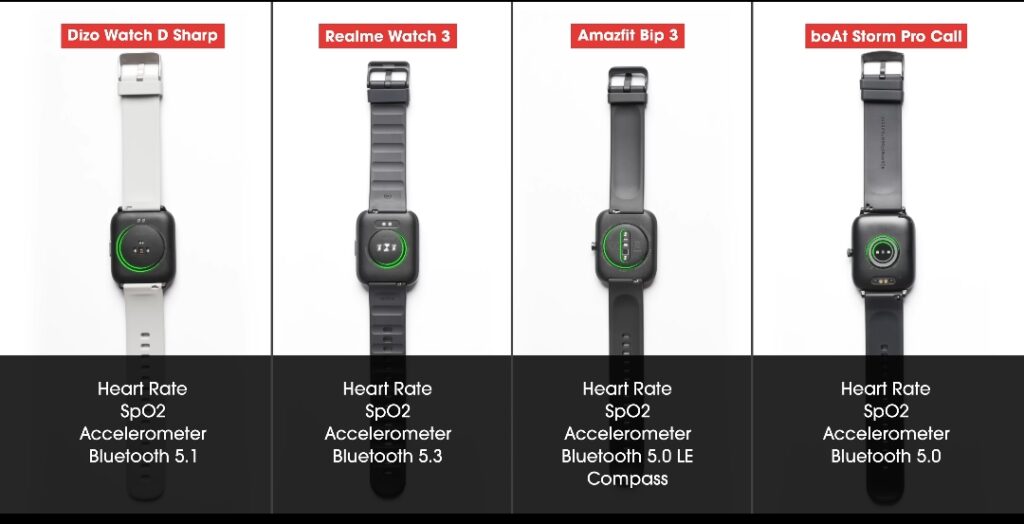 But Amazfit Bip 3, has an additional compass sensor. Also the Realme watch 3 has the latest Bluetooth standard which means slightly better range and connectivity.
Apart from these things in our testing Amaze bit 3 is the most accurate in terms of Fitness tracking. As this watch was closest to the Apple watch when you compare the heart rates, blood oxygen level, steps tracking, calories burned etc.
Pros:
In addition to all these things:
the Amaze fit app is clean and modern looking and shows you all the fitness details very well

UI feels fast and smooth

the display has good touch response

light smartwatch which is great for workouts

Waterproof 5 ATM
Cons:
plastic-type design

display looks pale

big chin at the bottom
But if you are looking for the best fitness smartwatch under Rs. 3000 then I guess that you will have to make these compromises. 
Best Affordable and Cheap all-rounder smartwatch under Rs. 3000
Amazfit Bip 3, and the Realme Watch 3 is short in terms of display and design. And that's where Boat Storm Pro Call stands out. 
This is the best overall Smartwatch under Rs. 3000 that's mainly because of its display. Below given are the display specs of  the four smartwatches: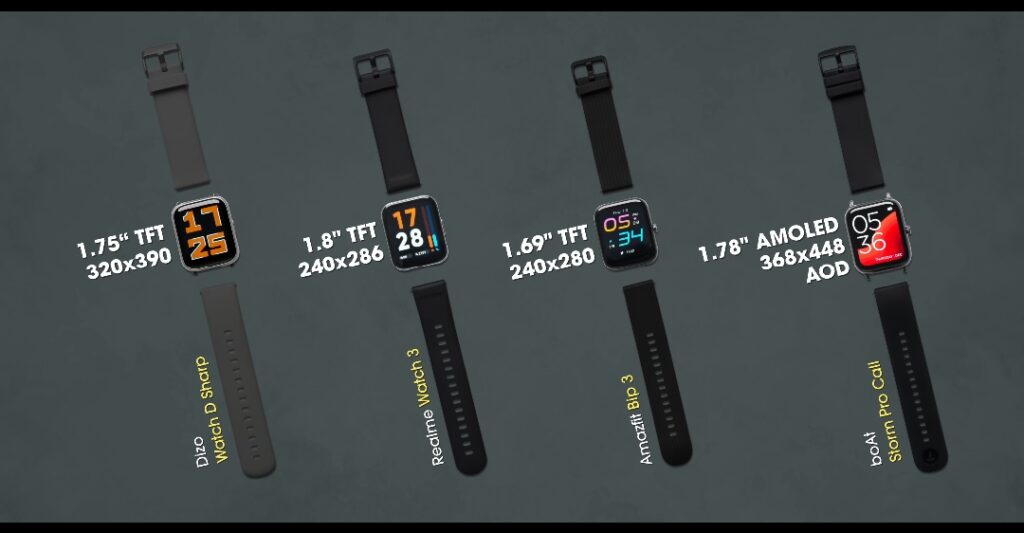 Pros:
Clearly, the Boat display stands out because of its AMOLED display and it's also got the highest resolution. The AMOLED display actually looks really nice compared to the tfts and LCD panels on other watches. It is:
vibrant and sharp 

and also decently bright for outdoor usage 

It has an always on display feature which is also a plus point.
The Always on display feature is something that you won't find in other smartwatches given here. Apart from this
rise to wake is also very responsive 

touch response is also very good

it does not have a huge chin like some of the other watches in the same price range

it's design looks better than the Amaze fit because of the slightly curved edges 

OS is straightforward and fast 

the app is also decently designed
So this is the best all-rounder in all of them because there are no big flaws. I mean Fitness tracking is not as good as the Amaze 3 but it's decent enough. The speaker for calls is not as loud as the realme watch 3 but it's fine.  
Con:
The big con is the battery which is 230 MaH but it should still last for around 5 days which is not bad. 
How do we test the best cheap smartwatches?
To find the best cheap smartwatches, we test them on various aspects such as battery life, design, features, compatibility, and performance. We compare them with other models in the same price range and see how they stack up. We also check the user reviews and ratings to get a sense of the customer satisfaction and reliability of the smartwatches.
Cheap smartwatches can offer a lot of functionality and convenience without breaking the bank. But how do we know which ones are worth buying? We test them rigorously on different criteria such as how long they last on a single charge, how comfortable and stylish they are, what kind of apps and notifications they support, how well they sync with other devices, and how accurate and responsive they are.
Conclusion: Are Cheap SmartWatches Worth It?
Based on the above-mentioned information you can easily make your decision. But if you have any doubts left in your mind then you can drop them in the comments and I will answer them shortly.