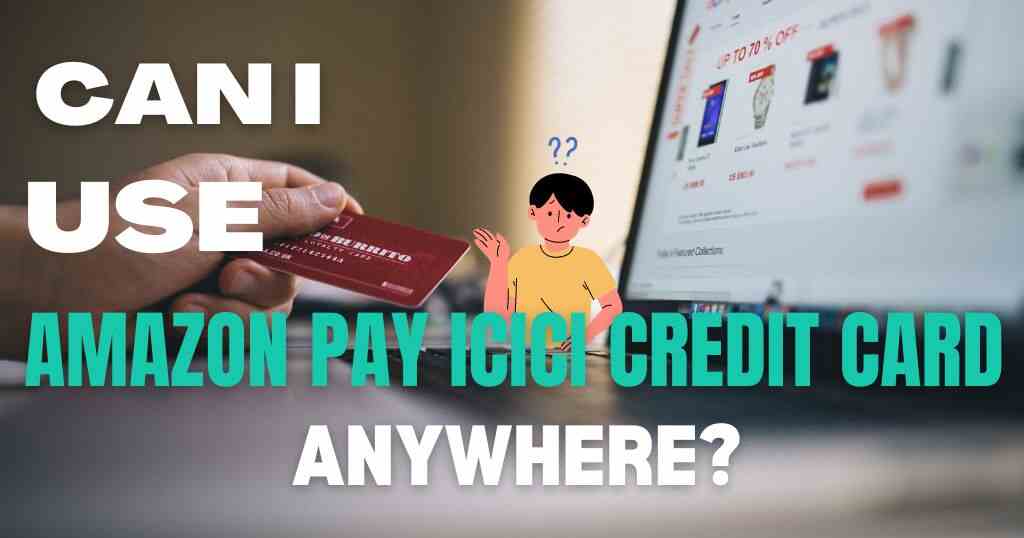 Yes, Amazon pay credit cards can be used anywhere. As it is a Visa credit card, it can be used at any merchant or online store that accepts Visa cards for payment. 
Amazon Pay ICICI credit card is a co-branded credit card, which means it is  offered by ICICI bank in partnership with Amazon. You can use this card for paying for different merchants worldwide, both online and in-store such as:
supermarkets

 department stores

gas stations

restaurants and other places. 
Also, this card can also be used for:.
booking flights

online shopping

hotels, and 

other online expenses.
However, I advise you to better check with the merchant or platform before making a purchase to ensure that the Amazon Pay ICICI credit card will be accepted or not. 
Is Amazon Pay ICICI credit card hard to get?
No, it's not hard to get an Amazon Credit card. It is a complete paperless process to get an Amazon pay icici credit card. But in order to get the credit card, you must match its eligibility criteria which is given below: 
You must be an Indian resident

You age must be between 18-60 years

You should have a good credit score of 750 or above

You should have a stable income source.  
If you meet these criteria, you can apply for the card by clicking here. After submitting your application, ICICI bank will conduct a credit check and may also ask for additional documentation such as proof of income and identity. After a successful verification a credit card will be alloted to you. 
Is the Amazon credit card only for Amazon?
No, you can use your Amazon credit card anywhere where VISA is accepted as a payment option. However, Amazon has partnered with ICICI bank  so you get additional rewards and benefits for purchases made on Amazon. For example:
you can earn 3% rewards on Amazon shopping, 

2% rewards on bill and recharges ( made on Amazon)

1% back on all other purchases.
Additionally, if you are a prime member of Amazon then you get additional cashbacks.
Is Amazon Pay icici credit card safe?
Yes, Amazon Pay ICICI credit card is safe like any other credit card. But you need to take certain precautions to protect your card from getting misused. 
Some of the precautions that you must take to keep your credit card safe are as follows:
Never share your card details such as your card number or CVV code with anyone. Others can misuse these details. 

Always enter your card details in legitimate and safe sites. Before entering the details ensure that the website is safe and trusted. 

Keep tracking your account activity and card statements on a regular basis to ensure that all payments are made by you.

If you find any suspicious or unauthorized transactions then report it immediately to your bank.
These precautions may seem simple for you. But you might be surprised to know that most of the people face credit card frauds as they don't follow these precautions. So yes these precautions are simple yet effective. 
Additionally, ICICI bank is one of the leading financial banks in India and has robust security measures in place to protect your personal and financial information.
Is Amazon Pay icici credit card useful?
Amazon Pay ICICI credit card may or may not be useful for you. It will depend on your individual needs and demands. 
Here are a few things to consider that will help you to determine, whether this card useful for you or not:
Rewards and benefits:

This card has special rewards and benefits for purchases made on Amazon (3% cashback on shipping). It also offers cashback on the payment made in different places other than Amazon. But that cashback is only 1%. So if you're someone who shops a lot from Amazon and pays most of your bill through Amazon, then this card is for you. 
Interest rates:

If you are someone who often fails to pay the credit card bill on time. Then you should compare different credit to check the interest rate charged by them. But I recommend you to pay your credit card bill on time as it will affect your credit score badly.

Fees:

You don't have to pay annual fees for this credit card. So it is one of the important features of this credit card. 

Credit limit:

The Amazon pay ICICI credit card limit offered to you may be lower or higher than what you need. So it is important to consider your spending habits and creditworthiness when determining the right credit limit for you.

Eligibility:

Ensure that you meet all the eligibility criteria before applying.
So In my opinion, Amazon Pay ICICI credit card may be a useful option for you if you frequently shop on Amazon and looking for rewards and discounts. But before applying it is important to review the card's terms and conditions, rewards program and fees to ensure that it aligns perfectly with your spending habits and needs.
Final Words
I hope I have answered all your doubts related to Amazon pay ICICI credit card. I have tried to cover all the questions, but if you still have any doubt. Then you can refer to the FAQs section which is given below. Apart from the questions mentioned here, if you have different queries in your mind then drop them in the comments and I will answer them soon. 
One request: It takes a lot of effort to create such detailed content. So if you really find it helpful then don't forget to mention your views in the comments as it motivates me to create such content for you. 
Frequently asked questions 
Does Amazon pay icici credit card physical card? 
Yes, Amazon pay ICICI credit card is a physical card. After successfully you get a digital card as well that you can access from Amazon. 
But according to the latest RBI guidelines, you can't use your digital credit card unless the physical card is delivered to your home. If you want to know its complete details then drop a comment below and I will cover this for you. 
Is Amazon Pay icici card valid for flipkart?
Yes, you can use Amazon Pay ICICI for shopping on Flipkart as well. But you will receive only 1% cashback. 
Is Amazon pay icici credit card a commercial card?
No, Amazon Pay ICICI credit card is not a commercial card. A commercial credit card is a card which is issued by a company to an employee to make purchases on behalf of the company. 
Is amazon pay icici credit card international?
Yes, you can use Amazon Pay ICICI credit card for international payments, as VISA is accepted internationally.
Can we use amazon pay icici credit card in petrol pumps?
Yes, you can use Amazon Pay ICICI credit card in Petrol pump. However you can get only 1% cashback for this purchase. 
Is Amazon Pay ICICI credit card free?
Yes, Amazon Pay ICICI credit card is completely free. Apart from this you get additional rewards from Amazon after the successful approval of your card.