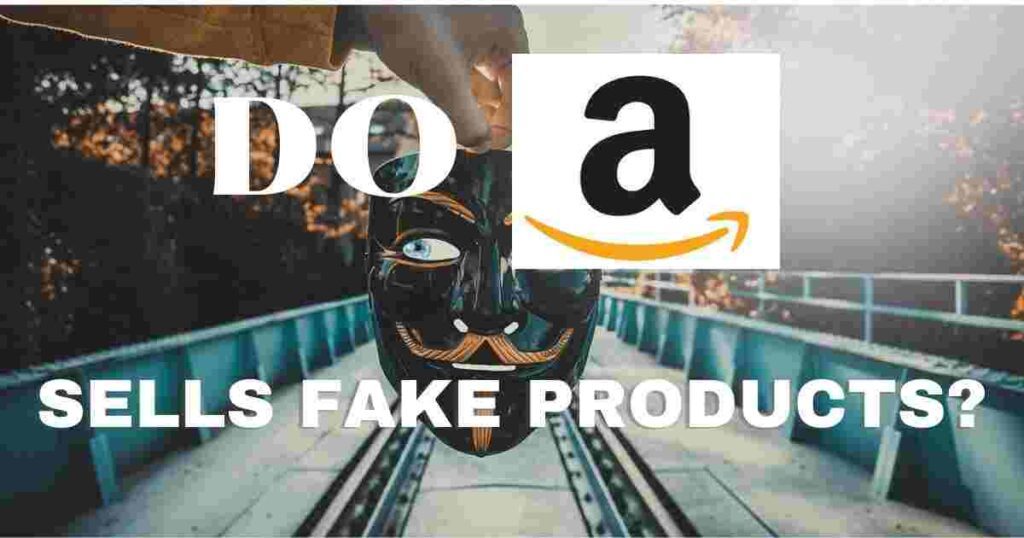 No, Amazon doesn't sell fake products. In rare cases it may be possible that some fake or counterfeit products may be offered for sale on Amazon by any third-party sellers.
Amazon is one the renowned ecommerce sites, so committed to sell authentic products to its customers in India and around the world. To ensure this, the company has various policies in place to prevent the sale of fake or counterfeit products on its platform. Whenever any fake product is detected they work promptly to quickly remove such product. 
In case you feel or suspect that the product that you have purchased is fake, you should contact Amazon's customer service team immediately for assistance. To resolve your issue Amazon may ask you to provide information about the product, such as its condition, packaging, and any other details related to the product. Amazon may ask you to return the product to carry out further investigation. After the investigation, if it is found that the product delivered to you is fake or counterfeit. Then Amazon will take appropriate action, which include removing the product from the site, processing your refund and may also delist the seller.
Does Amazon sell original products?
Yes, Amazon does sell original products. But there are few rare chances that you may get fake or counterfeit products. 
You see Amazon is a vast online marketplace that offers a wide range of different products from a variety of sellers. These sellers include both individual sellers and large companies. Some of the products sold on Amazon are sold by Amazon itself, while many other products are sold by third-party sellers.
So, while shopping on Amazon, you may find a mix of original and non-original products. You should consider only those products as original that are produced and sold by the manufacturer,  brand owner, or a trusted seller. You can easily see the complete review of the seller in the product page. So by reviewing the experience and all the reviews you can easily determine that the seller is original or not? For your convenience I am including a sample that shows how a seller review actually looks like on Amazon.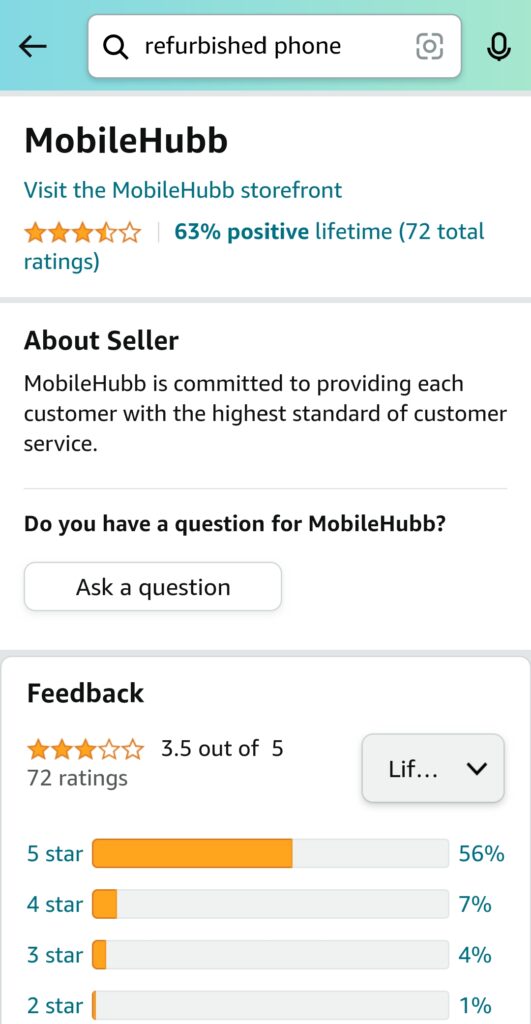 Many sellers may sell non-original products which may be knock-offs, imitations, or unauthorized copies of original products. 
Now it might be coming to your mind that what are the ways through which you can determine, whether the product that you are going to purchase is original or not?
How to spot fake products on Amazon?
There are a few things you can do to spot fake products on Amazon:
Check the seller's rating and reviews.
If the seller of the product has
 high rating 

large number of positive reviews,

Serving on Amazon for long years
Then it is almost sure that the seller is selling genuine products.
If there are any misspellings, poor grammar, and unusual formatting in the product listing. This can be a sign that the product is not original. So you should avoid buying such products. 
In general the images of original products are of high quality. If the images on the product page look blurry, low quality, or look like they have been copied from other website, it's possible that the product is fake.
Look for unusually low prices.

 
Compare the price of the similar product. If any product is much cheaper in comparison to other similar products on Amazon, it could be a fake product.
Check the product description.

 
If the description of the product is very short, vague or doesn't provide much information, it is possible that the product is not genuine.
Look for the Amazon's Choice badge.
Generally the products that have an Amazon choice badge then they are more likely to be genuine. Amazon assigns these badges to those products that are highly rated, well-priced, and available to ship immediately. 
While shopping if you suspect that this product may be fake based on your instincts and other parameters that are given above. In that case you should trust your gut and be cautious before making a purchase.
Only for you: In the end, I have also shared my opinion and experience of ordering products on Amazon. So don't miss to check that out. 
Does Amazon refund fake products?
Yes, after carrying out a proper investigation Amazon does refund the fake products. In case you have received any fake product from Amazon, then report it immediately by contacting the customer support. There you can also request them to refund your money. 
To protect the interest of the customers Amazon has policies in place to safeguard them from receiving fake products. After carrying out their investigation if they find that the product delivered to you is fake. Then they typically offer a full refund to you. If you have any evidence that can prove that the product you received is fake. Present them in front of the customer support  which will be  helpful in supporting your claim and getting a refund. 
In some situations, you often see messages in social media that claim to be Amazon and offer you products at very cheap prices. But all such claims and websites are fake. But the question is how can you check a fake Amazon website. Now you don't need to worry about this. I have covered this for you in the section given below. 
How can you tell a fake Amazon website?
There are a few things you can do to identify a fake Amazon website:
The original URL of the Amazon website should always begin with "https://www.amazon.com". Match the spelling carefully and be cautious with the websites with URLs that do not start in the same pattern, as they may be attempting to imitate Amazon. 
This is the most appropriate method to identify the true Amazon website. After ensuring that the URL is perfectly correct you can check other things as well. But they are not so important. You can ignore them too. 
You all are familiar with the logo of Amazon. If not, I am including it below for you. If any website doesn't have an Amazon logo on it then the website is a fake Amazon website. 
Check for security indicators
 It is one of the general rules of checking a legitimate website. All legitimate and real websites use SSL. If you don't know about SSL then let me make it simple for you. If a lock symbol is appearing before the url and the starting of the url contains "https" instead of "http". Then the site is considered as a secured site. So if you are putting any sensitive information on any site. First check that the site is legitimate and cross check it using this rule. 
Watch out from super cheap deals
If a deal seems too good to be true, it is probable that the site is fake and trying to do fraud with you. Be especially cautious of  those products that are significantly cheaper than what is offered on Amazon's official website.
The actual and real Amazon website has a large number of reviews from actual customers. If the website you are on has few or fake-sounding reviews, it may be a fake site. 
 If you are unsure whether a website is original or not, then you can verify its authenticity by contacting Amazon. By visiting this page you can get the contact information of Amazon customer support. 
Conclusion
Now you can easily find fake products on Amazon. If I share my own shopping experience with Amazon then it has been quite good. I have always received genuine products. And they have an excellent support team that helps you if you face any problem. So according to me you can consider buying products on Amazon. But keep the above suggestions and measures in mind to have a happy buying experience. 
If you find it helpful then share it with your loved one so that they can also know how they can save themselves from buying fake online products. Also if you have any query then do let me know in the comments. 
Frequently Asked Questions 
Does Amazon have fake reviews?
Most of the reviews on Amazon are not fake. But it has been noted that in some rare cases some products have fake reviews. 
If you notice that there are misspellings in any review or the review is too positive or too negative, then the reviews may be fake. Generally if a product has too many reviews including the positive, negative and neutral ones then there is a huge possibility that the reviews are true. 
Are all Amazon sellers trusted?
No, not all Amazon sellers are trusted. Amazon takes restrictive measures to ensure that all sellers are genuine.
But it may be possible that some sellers are fake. You can easily spot a fake seller by reading above. 
Does Amazon sell fake shampoo?
It is possible that some of Shampoo on Amazon may be fake. But you can avoid buying a fake shampoo by buying it from a trusted seller or brand. 
Does Amazon sell fake clothes?
It is possible that some sellers on Amazon may sell fake clothes. But you can save yourself from this by buying from a trusted seller and brand.