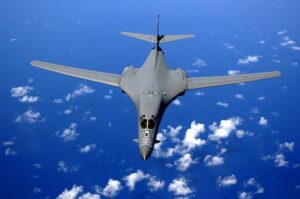 On Friday the B-21 Raider strike bomber's first glimpse was unveiled by the defense contractor Northrop at the Air Force's plant in Palmdale. 
It is the most advanced aircraft present in the world. This B-21 Raider strike bomber can carry a nuclear and conventional payload for the army. 
In the announcement made by the contractor North Grumman. They said that its first flight is expected in 2023, but it will be deployed several years later.
What did Lloyd Austin say about this?
The reveal of the new bomber sends a message to the world that the U.S. has a "mission to defend America and deter aggression," Defense Secretary Lloyd Austin said.
And space-age coating materials make it harder to be detected. "Fifty years of advances in low-observable technology have gone into this aircraft," Austin said. "Even the most sophisticated air defense systems will struggle to detect a B-21 in the sky."
The name given to the B-21 Raider is inspired by the Doolittle Raid over Tokyo in the year 1942. There are in total 6 aircraft currently under production. The US Air force is planning to eventually have 100 B-21 bombers aircraft. 
Frequently asked questions about the B-12 raider
Is the B-21 nuclear capable?
The B-21 Raider is being designed to be a long-range, highly survivable, and penetrating bomber that will be capable of carrying both the conventional and nuclear payloads. 
How much does a B-21 cost?
According to the contractor Northrop Grumman Corp it is being informed that if everything goes as per the plane then it will cost $692 million per bomber. The aerospace giant Northrop Grumman Corporation is likely to produce at least 100 B-21 bombers. 
How many B-21 raiders will be built?
As of now, 6 B-21 Raiders are in the production phase. And the US Air force is expecting to have at least 100 such bombers. 
Yes, it is a supersonic aircraft that can fly with an average speed of 563 miles in an hour. 
How fast is the B-21 raider?
The raider is capable of flying at an average speed of 563 miles per hour.