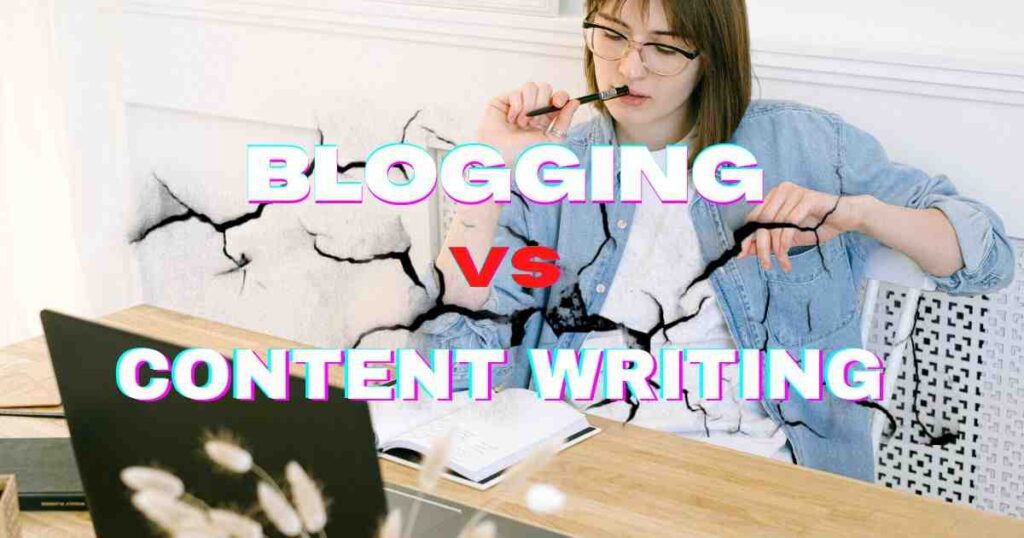 Content writing and blogging are almost similar. As they are both related to creating written content for the internet. But they are not exactly the same. There are some differences between them.
Content writing is something that refers to creating any type of written content that you see on the internet. As I have written content in this blog, you can say that it is one of the examples of content writing. In simple words you can say that content writing involves writing website copy, social media posts, articles, and email newsletters. 
So a content writer may work for a variety of clients and industries and may be responsible for creating a wide range of content for them. 
On the other hand blogging can be considered as the subset of content writing. In blogging one specifically to write content for a blog. Other than writing content for a blog. Blogging involves some other activities such as creating, designing and maintaining a blog.
A blog is a type of website that features regularly updated, chronological content, typically in the form of written articles or posts. Bloggers may write about a wide range of topics and may be responsible for researching and writing blog posts, as well as promoting their blog and interacting with their audience.
Detailed differences between content writing and blogging
Here are some key differences between content writing and blogging:
The main purpose of blogging is to provide regular, chronological and valuable content for a website. The main reason for creating a blog is to engage and add value to your readers through the written content. On the other hand, The main purpose of content writing is to create written content that serves a specific purpose or goal. It could be anything such as selling a product, educating the reader, or providing information. 
Blogging can be considered more personal in nature and may be created for a wider, more general audience. But content writing is often created to serve and target a specific audience. So the content is tailored to meet the needs and interests of the targeted audience. 
Content writing can take many different forms depending upon the audience to target, such as website copy, social media posts, articles, and email newsletters. Blogging, on the other hand, is done majorly in the form of written articles or posts that are published on a blog.
Blogging involves regularly publishing new blog posts on a schedule which may include posting articles several times a week. Content writing on the other hand, is created only when needed, which depends on the needs of the client or project. 
A blog is typically written in a personal and conversational tone to engage the readers. On the other hand, the style of content writing can vary depending on the purpose and targeted audience of the content. 
How to start blogging?
Starting a blog is a fairly simple process and can be done in a few steps:
Choose a blogging platform
A blogging platform is basically a platform from where you manage your blog. There are many such blogging platforms that you can choose such as WordPress, Blogger, and Squarespace. I personally use WordPress for my blogs and also recommend you to use this.
A domain is nothing but the web address that people will use to access your blog. You are required to purchase a domain name through domain registrars such as GoDaddy, Namecheap, etc. If you are a beginner in blogging then I recommend you to use GoDaddy as you will get cheap domain names to start with. I had also purchased my first domain name from GoDaddy. 
Most blogging platforms have customizable templates and design options that you can use to create the look and feel of your blog.
Start writing and publishing content
Do the initial setup of your blog (includes connecting domain name and hosting if you have purchased it from different websites, adding SSL to your blog etc.) After setting up all the basic settings you can create and publish new blog posts to your blog. 
These things may make you feel a bit confused in the beginning but they are very simple. You can always ask for help from me if you face any difficulty in understanding and setting up these things. 
Now you need to share your blog on social media and other online platforms to attract new readers to get engagement and traffic on your blog. 
Overall, starting a blog requires some initial setup and planning, which you can easily learn. However, if you want to learn blogging from me then comment below and I will share all my learnings and secret strategies with you.  
How to start content writing?
If you want to start content writing, there are a few steps you can take to get started:
Develop your writing skills
Content writing requires good writing and communication skills. So if you want to be a content writer then it's important to practice and improve your writing as much as possible. You can easily learn this by taking writing courses or workshops, reading writing-related books and articles, and writing as much as you can.
To be a good a good content writer you should give attention to the following things: 
Determine your areas of expertise
The first step is to identify the area in which you are knowledgeable and passionate about. As this can help you figure out and determine the types of content that you want to write.
To show that you have a good content writing skill, it is important to have a portfolio (samples of your work) to show to your potential clients or employers. It is very easy to create a portfolio. All you need to do is to compile a selection of your best writing samples and include them on a website or online platform. You can even save it to your drive and show it to your clients. 
Find writing opportunities
There are many different ways through which you can get a content writing job: 
by joining freelancing platform like Upwork or Freelancer

by applying for content writing jobs on job boards,

by reaching out to businesses or websites directly to offer your services.
You should also build a network with other writers and industry professionals. They can help you to find writing opportunities and get valuable advice and support that will improve you as a content writer. To join such networks you should find writing organizations, attend writing events, and participate in online writing communities.
By following the above mentioned steps you can build a successful career as a content writer. 
Conclusion
So this was an in-depth analysis of the difference between content writing and blogging. Hope this would have cleared all your doubts. If you still have doubts left in your mind then you can refer to the FAQs section which is given below. Alternatively you can ask your queries with me in the comments below. 
One request to you: If you find this content informative then do share this with your friends and family members. As it will motivate me to make more such detailed and informative content for you. 
Frequently Asked Questions
Here are some frequently asked questions about the differences between content writing and blogging:
What is the main purpose of blogging?
The main purpose of blogging is to provide regular, chronological, valuable and information content in order to add value to the readers and resolve their query. 
What is the tone of blogging?
Blog writing is typically written in a conversational and personal tone to get more engagement from the readers. 
Do content writers make good money?
Content writers can potentially make good money, but it can depend majorly on three things:
your experience, 

the type of content you write,

the demand for content. 
 Some content writers work on a freelance basis and are paid per project or per word, while others work on a monthly salary.