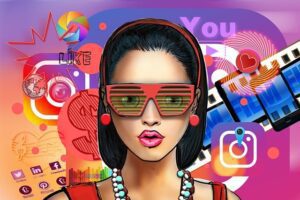 Instagram photo sharing app is one of the most popular social media apps, especially among youths. They use it to share their photos and videos among their followers.
Instagram photo sharing app: History
 Kevin Systrom is the founder of Instagram. It was initially a web app named Burbn. But in 2010, the first mobile app of Burbn was launched on iOS, and it was launched as a photo-sharing app.
Later features such as liking and commenting were added to this. Then it was renamed Instagram, and it is a combination of two words, instant and telegram. Thus it gave rise to the Instagram photo sharing app. 
The launch of the app was a huge success. The app was launched on 6 October 2010. On the launch day itself, it had recorded 25,000 downloads. By mid-December, it had reached 1 million downloads. The popularity of the app grew over time. Seeing the app's popularity, many investors invested their money in the app's further development. Twitter also thought to buy it and offered $500 million to Systrom.
The app was further launched for the Android platform. Within a day, it possessed crossed 1 million downloads. Later, Mark Zuckerberg and Systrom got acquainted with each other after an event held at Stanford and Zuckerberg bought Instagram for about $1 billion in 2012.  
Instagram in 2012 updated its terms and conditions and stated that it could sell the photos posted on Instagram without any notice or compensation. Many users opposed this by deleting their accounts on Instagram. Soon after their decision, they withdrew it, seeing the people's negative response.
Now Instagram has gained huge popularity. Now you can watch videos on Instagram and edit photos and videos on Instagram through different filters before posting. With the increase in popularity, Instagram is currently being used for various other purposes.
Instagram is no longer a photo sharing app says company Head
.
Instagram entertainment is not limited to photos, and many creators create lots of content and post on Instagram. You can view long videos through IG tv and short videos through reels.
Nowadays, reels are very popular on Instagram. Nobody has time to watch long videos in today's busy world where everyone is hard-pressed for time. So short videos in the form of reels are the best ways to entertain people.
Through a message on Twitter and Instagram, the head of Instagram said that Instagram will now be focusing on creators, videos, shopping, and messaging. So you will see that Instagram will no longer remain just a photo-sharing platform. The company clearly indicates that it no longer wants to get recognized as a photo-sharing platform but aims to move toward videos and entertainment like YouTube and Tiktok. He also made clear that in a future Instagram update, they will enhance the video viewing experience of the people.
This decision of the company also faced criticism from some creators. They said that due to the transformation of the app, they would lose their influence as they don't have adequate knowledge of videography. 
But the company ignored such criticism and continued its plan. Now the company is strongly promoting its reels. As a result, reels are becoming more popular and getting more public engagement. To increase its revenue, the company has introduced ads between the reels. Now Facebook has launched a creator program in which the company has decided to pay creators money for their content in 2022. This shows the movement of the company towards videos and entertainment. And in the upcoming years, videos on Instagram will gain more popularity.
Other uses of Instagram
Instagram for businesses.
Since Instagram has a wide audience reach, a business can reach a large audience for their product. Businesses make their Instagram page and post engaging posts showing the critical features of their products and services. Even big companies such as Apple, Microsoft, Tesla, Google, etc., make their Instagram pages to connect with the audience and showcase their products and services.
New businesses can promote their products through advertisements. The ad logarithm of Facebook helps business owners to reach a large potential audience on a minimum budget. Ads can be run in the form of images and videos. Now you can also advertise in the form of reels( short videos of 30 to 60 seconds).
You can also track the performance of your ads.
Instagram for learning.
An individual can use Instagram to learn various information. Many influencers post educational content using graphics, videos, and pictures that help individuals gain knowledge of any field. They present their content is very engaging and accessible for anyone to learn.
One can follow such pages on Instagram, and each time they login into their account, they see their post in their feed. If you want to learn about the stock market, you can follow pages related to the stock market. Thus any person can make good use of social media platforms such as Instagram.
Instagram for personal branding
As it is said that contacts bring contracts. Instagram has a huge audience base. By adding value to the life of the people through posts, anyone can build its name.
For building their brand, one can add value to the life of people in the form of educational content, entertainment, counseling, etc. Once you build your name, you can easily earn using Instagram. 
Once you have reach and presence over a good audience, you can sell your products related to your niche and earn money from it. You can also earn through paid promotion and affiliate marketing by promoting other products and services.
If you gain an audience base interested in any particular niche, companies related to that niche contact you to promote their products through your Instagram page.
As everything in the world is changing, companies are changing too to always remain in the competition. This is why companies bring regular updates to their apps and bring new features. Those who are not flexible enough for change lag behind. So Instagram photo sharing app will also change and would focus on videos and entertainment as per the video message of the head of the company.