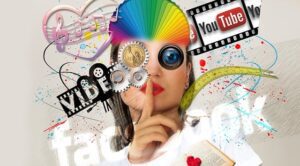 Due to the prevailing situation of the coronavirus pandemic, most of the work is shifted online. In order to maintain social distance people are mostly connecting with each other virtually through social media. We use different types of social media to connect with our families, relatives and friends. But as it is always said that everything has its pros and cons. 
So the use of social media has some cons as well such as forwarding of misinformation, wrong comments, and sometimes useless waste of time in these apps. So you should follow these healthy social media tips that will help make your use of social media apps healthy as well as enjoying.
5 Tips for healthy social media use
Unfollow unhealthy accounts

 
You should know that the posts and stories posted on social media aren't always true. Some of the accounts are made to influence people's opinions to give it a political or social shape. Some accounts also spread hatred about particular people, society and religion.
You might have heard about the harassing and trolling of people through social media. Such people just want to spread negativity in the society. 
So you should not follow these accounts and if you have followed it then unfollow them as soon as possible. These types of people aren't going to help you anyway; instead of this it will lead you to stress and anxiety.
Always follow such pages and influencers which adds some positive value to your life. If you follow good influencers and pages then you can actually learn from these platforms. You just need to change the way you use it.
This is one of healthy social media practices. Sharing posts and stories are so easy in these social media apps that it doesn't take people even a minute to forward a message. Sometimes in forwarding the message many misinformation is forwarded that could lead to a negative impact on society and other people. You should not share sensitive and provoking messages to others.
Always think before sharing what impact could this message make in society. Always validate the message before sharing. This will stop the spreading of false messages. You can validate the correction of any message by searching about it on Google.
Always try to spread positive and meaningful messages in your groups, chats and stories. 
Various reports show that an average person uses social media for more than 2 hours a day. This is not a healthy social media habit. Once anyone opens the app then they start to scroll several other random posts, stories, reels etc which are not of their use. Experts say that after wasting time in these apps people don't feel energetic. Instead, many people feel very low. They try to compare their life with the life shown in these platforms which is far away from the real world.
So you should schedule the use of your social media. Check only once or twice in a day at any specific time. Before entering the app you should be clear about the purpose of opening the app so that you don't get distracted by other random stuff.
Excessive social media use harms your eyes as well as mental mind. So this healthy social media tip will not only help you to be productive but it will also help you to become healthy and focussed
Everyone uses social media to connect with people. Instead of texting messages to your friends, families or relatives you should call them directly. This will make your connection stronger with them.  
Social media use is one of the major reasons for distraction among youth. At the age of building their life for the future most of the youths are wasting their time and energy in these apps. These apps become so addictive that it becomes very hard for them to leave this.
If you are someone who is addicted to social media then you should follow these tips:
Make these apps hard to access. Don't keep these apps in the home screen. Keep them in the last. You can make them password protected. The password should be long and difficult. So it will not be easy to access within a few clicks.

Instead of using social media, find one hobby for you. Engage yourself with that hobby. Alternatively, you can spend time with your family members. This will slowly detach you from social media. 

Uninstall the social media apps that are not important for you. This is one of the extreme steps that you can take. But try to follow the above steps first. If those don't work then you should take such steps.
Many experts suggest people to take a device break and disengage yourself from any type of digital device such as laptop, smartphone, tablet etc. At Least in a week cut yourself from this virtual world of social media for about 12 to 24 hours. This will help you to connect from reality and physical experience. 
People are so busy in their life that they hardly give time to meet each other physically. They wish them for their birthday, and other occasions via text, emojis and stickers. These things cannot actually connect you and bring a real feel of wishing.
So meet with your friends, and relatives and spend quality time with them instead of meeting them virtually. In this way you will get to know more about each other and it will strengthen your relationship bond.
Final verdict
In today's world social media has great importance. In the current scenario of COVID-19 pandemic students are studying through social media platforms such as whatsapp and youtube. Teachers are sending assignments through these. Businesses are using it to increase their reach among potential customers. People are sending information and messages through this. There are various other ways in which social media use is helpful and important for you.
But a real problem arises when we overuse these apps in an unregulated manner. By keeping control and discipline in the use of these apps you take benefit from these apps. Taking care of the above mentioned tips for healthy social media  use can keep yourself aways from the disadvantages associated with the use of social media.