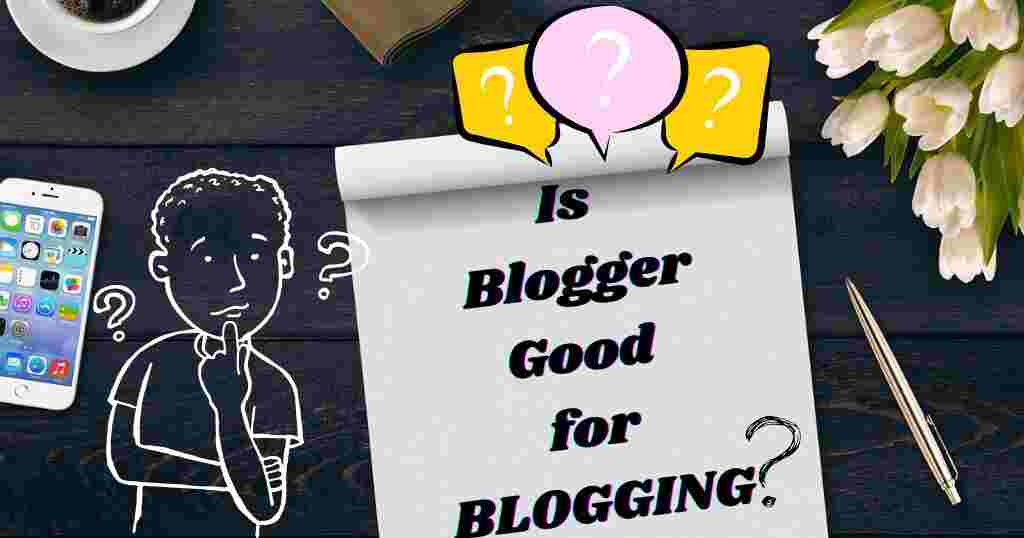 Yes, Blogger is a good blogging platform. It is a free and popular blogging platform that allows you to create and manage your own blogs. But before choosing this for blogging you should consider certain factors which are given here.
Blogger is a blogging platform for those who are new in the field of blogging and want to start a blog quickly and easily. The reason is it is very easy to set up and requires minimal technical knowledge. By watching a few tutorials on YouTube you can easily launch a blog on blogger within a few hours. In case of any difficulty, you can ask from me as well by commenting your doubt below.
Benefits of Blogger
Some of the benefits of using Blogger include:
Free blogging platform: Blogger is owned by Google, so it is free to use as Google is known to provide most of its services for free. So it is an ideal option for those who want to start a blog without having to invest in a hosting plan or domain. 
Ease of use: You only need a google account to start blogging on Blogger  The interface of Blogger is simple and easy to use. The best thing is that even if you don't have a laptop or desktop then you can use the Blogger app on your mobile to create and publish blogs. So the minimal requirement to start blogging in Blogger is just a smartphone. 
Templates and customization options: Blogger offers a variety of templates you can use to enhance the look of your blog. Also, you can do some customization on widgets, gadgets, and layout templates. There are many free themes you can download from Google and use it on your blog. 
Integration with other Google tools: Since Blogger is a product of Google so it can easily be integrated with other Google tools such as AdSense and Analytics. Adsense allows you to monetize your blogs and Google analytics helps to track your blog.
If you are new to blogging and if you are not familiar with these terms then you don't need to worry. You can easily learn these things. 
Limitation of Blogger
It's true that Blogger offers you most of the things for free but it has certain limitations as well which you should know:
Limited control over the platform: Blogger is hosted by Google, which means that you do not get full control over your blogs. It offers limited features and options to manage your blogs. 
Limited design flexibility: While Blogger does offer some customization options, but they are very limited. They offer very little functionality as compared to what is available on self-hosted platforms like WordPress.
Limited scalability: The blogs of Blogger can't handle large amounts of visitors at a time. This makes it less suitable for more complex and high-traffic blogs.
In conclusion, if you are just getting started with blogging then you should choose Blogger. As it is free so there is no risk involved. And in case you feel that blogging is not for you then you can easily quit. But if you are serious about blogging and if you can spend around $38 then should choose WordPress. 
WordPress vs Blogger: Which one is better ?
Both WordPress and Blogger are popular blogging platforms for creating and managing blogs. But there are some key differences that make one better suited for a particular user than the other.
With WordPress, users get more control over the design and functionality of their site. It offers a wide range of customizable templates, and different plugins to add different features. This makes WordPress an ideal choice for those who want to create highly customized, professional-looking blogs. Since, WordPress has a large community of developers and users so they constantly contribute to the platform in terms of themes, plugins and support. Also most of the websites are built on WordPress. Some of popular blogs and website built on WordPress are:
The New Yorker

Forbes

TechCrunch

BBC America

The New York Times Company

The White House

TED

The Times of India

The Wall Street Journal

The Harvard Business Review

The Verge

The Guardian
On the other hand, Blogger is a free and easy-to-use platform. It is an ideal choice for those who are just starting out and who don't want a lot of customization options in their blog.
So overall, wordpress is a more powerful tool than a blogger in terms of features and usability. 
Other alternatives of WordPress other than Blogger
There are several blogging platforms that can be better alternatives to Blogger in terms of providing better customization options and features. Apart from WordPress other alternatives include:
Ghost

Squarespace

Wix

Medium

Jekyll

Tumblr
Is blogger safe?
Yes, Blogger is a safe blogging platform. I know that some of you may find this question strange. But few people have this question in their mind. So this is just to resolve their query. In the beginning I had started my blogging journey from Blogger. I learnt most of the things about blogging from Blogger itself. Then after a year I moved to WordPress. While using Blogger I had not faced any security concerns.
Conclusion
In my opinion WordPress is the best among all of them if you want to start blogging. If you really don't have money then only you should opt for Blogger.
If you are new to blogging and if you have any doubt related to blogging then you can ask me in the comment below. 
Frequently Asked Questions
Is Blogger hosting free?
Yes, blogging is hosting free. The blogger is hosted by Google. You can only add a custom domain name in blogger.
Do I need hosting for Blogger?
No, you don't need hosting for Blogger. It is a free blogging platform that lets you create a blog without any investment. 
Is  Blogger a Google product? 
Yes, Blogger is a product of Google. It has been designed and developed by Google. 
Is blogger good for SEO?
Yes, you can do basic SEO in Blogger. But if you want to do good SEO then I recommend you to use WordPress.