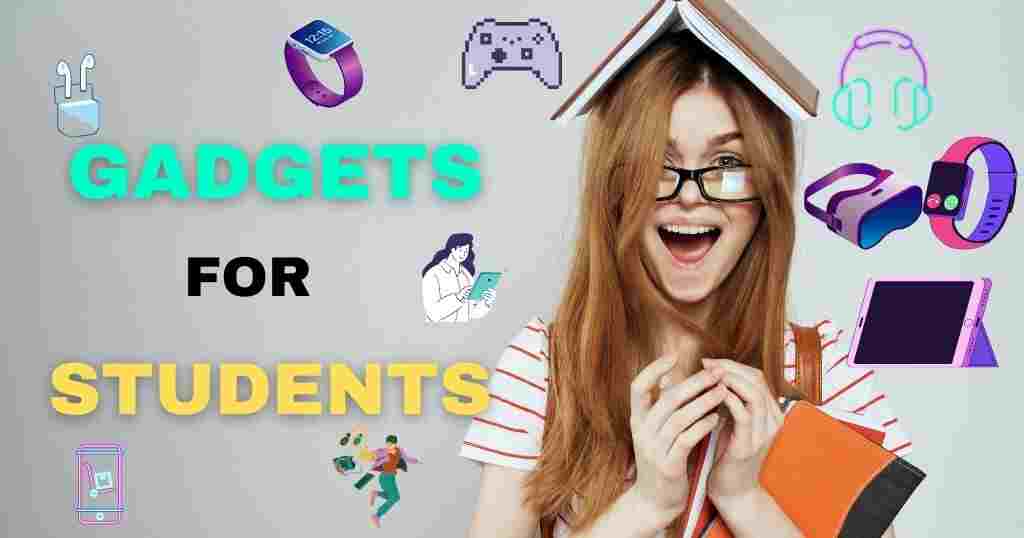 The life of a college student is very busy. After a long school life journey for the first time, they enter college life. So most of the students want to explore new things. But due to the workload of studies, most of them don't get time to explore and experience new things.
So here we have brought the list of cool and best gadgets for college students that can make your life easier so that you can save some extra time to explore and experience something new. Also having these cool gadgets will make a good impression of yourself in front of your classmates.
The list has 10 cool college student gadgets and you can choose from them depending upon your requirement. We know that college students have a limited amount of money to spend so the list mainly contains those best gadgets which most of you can afford.
List of 10 best gadgets for college students
1. Smart reusable notebook
All of you are familiar with the notebook. But few of you might have heard about this smart notebook. Folks, we are in an era of technology, so this technology has also made our notebooks smart.
So it is like an ordinary notebook that feels like traditional notebooks when you write on it. But the best and the most interesting part is that the writings can be erased easily and the page can be reused. You just need to slightly wet a towel and wipe it. It comes with a special pen to write on it. You can also save the notes written on it on google drive, dropbox, Evernote and other cloud-based storage solutions.
With this digital note, you can study anywhere you want, you don't need to carry your notebook with you. This will not only help you but this is helpful to protect our nature as so many trees are cut down each year to make paper. 
2. Folding keyboards
A folding keyboard is a keyboard that can be folded in a small compact size which can be easily carried while travelling.
Most of the students have to travel from one place to another to attend various seminars and workshops. So having a foldable keyboard can save a lot of space in your backpack.
3. Smartwatch
Almost everyone knows about this. This is helpful to monitor your heart rate, temperature, oxygen level and to track your sleep. It can remind you to drink water at regular intervals and can count the number of footsteps you walk.
So you can track these details to track your health status. For a student to be healthy is very important. But due to their hectic schedule, they hardly track their health. This cool gadget will help you in maintaining your health.
 Having these health benefits make this fall on the list of gadgets for college students.
4. Portable hard drive 
Due to the prevailing situation of coronavirus, students are taught online. Teachers share the notes, assignments and projects online. So a student requires a lot of storage to keep all these files. 
A portable hard drive can solve this problem for you. It can not only help you save your files but due to their compact design, you can carry them anywhere.
5. Noise-cancelling headphones
Most of the students have to leave their homes to get admission to their dream college. They have to either shift in a hostel or a lodge. But many students have to struggle for a silent environment to study.
So this gadget is for them. You can use these headphones. This cancels the background noise automatically and you get a peaceful place to study even when it's noisy outside. In this way, your productivity increases.
6. Kindle paperwhite
This is among the best gadgets for college students, especially for those who love reading books. You can read any ebook in this. 
The best part is that it feels like a normal page when you read it. It doesn't strain your eyes and you can read from this for long hours. Its use has become more significant in today's world as the studies are done online. So you can easily read your notes in this without impacting your health.
7. Anti-Theft Backpack with USB port
Backpacks are an integral part of student life. So this must be a protected right. So there is another cool gadget that can help you with this. Anti Theft backpacks come with various safety features such as they are slash-proof and have lockable and hidden zippers and pockets. These backpacks are also water-resistant.
These features make your backpack secure. Also, this has a USB port so you can also charge your mobile anywhere.
8. Laptop
The laptop helps students in various tasks such as attending online classes, making presentations, doing group works etc.
It is an important gadget for a student who has opted for a computer subject as they have to do coding. One can do coding on a computer as well but computers are not portable so they can't be carried to college. 
A budget laptop of 40k to 50k has enough capacity that can carry out their normal work.
9. Wireless earphones
Gone are the days when people had to struggle with wired earphones. Now with the advancement in technology wired earphones are being replaced by wireless ones.
 They have multiple benefits such as being flexible and comfortable to use and also eliminating the hassle of handling wires. When wireless earphones were launched first then they were costly at that time. But now they are affordable.
10. Wifi coffee maker
Most of the students have the habit of studying at night. Especially when they have their exams. So coffee is the best drink that can keep you fresh and awake at night.
 With wifi coffee makers you can prepare a coffee sitting at your study table or bed. These machines are connected to your mobile via wifi and you can manage them with the help of an app.
You can set the temperature as well as the amount of coffee to be prepared with the help of the app.
Conclusion 
We are in the age of technology so the list of college student gadgets can be endless. But these are the most important and best gadgets for college students that you should purchase to save their time and to make their work easier. These cool gadgets will make you more efficient