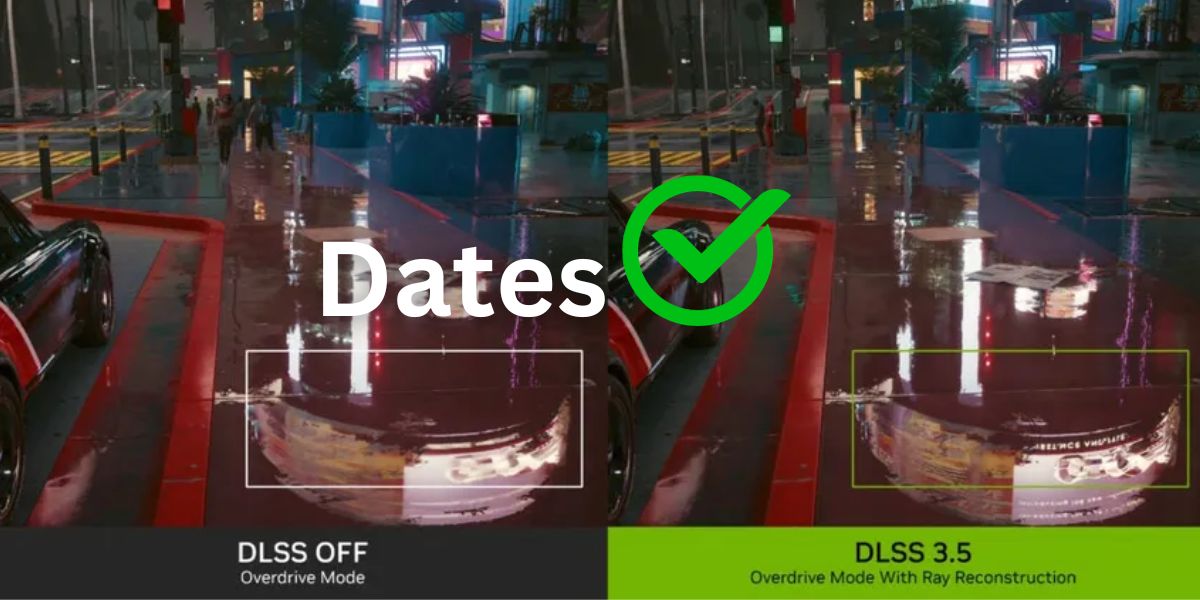 As the release date of DLSS 3.5 approaches, Nvidia has exciting news for gamers. This improved version of Nvidia's upscaling technology is set to make its debut with the eagerly awaited Cyberpunk 2077 2.0 patch. Gamers can mark September 21st in their calendars, as the day when both the game's major update and DLSS 3.5 will be available.
DLSS 3.5 Release Date
DLSS enthusiasts won't have to wait long to experience the benefits of version 3.5. The release date, September 21st, coincides exactly with the Cyberpunk 2077 2.0 update. What's even more convenient is that this launch comes ahead of the release of Cyberpunk 2077: Phantom Liberty, CD Projekt Red's latest offering, which is due out on September 26th. Nvidia initially unveiled this exciting development at Gamescom, meaning gamers won't have to endure long. waiting period.
Understanding DLSS 3.5
In a constantly evolving landscape of DLSS versions, including DLSS 2, 3, and now 3.5, it can be easy to lose track of technological advancements. For those wanting a quick refresher, our DLSS 3 guide is available for reference. In the following section, we will provide a brief overview of the new features in DLSS 3.5 and why they are of particular interest.
DLSS 3.5 comes with an exciting promise: compatibility with all Nvidia RTX graphics cards. This means gamers won't have to invest in the latest RTX 40-series GPUs specifically to enjoy the benefits of DLSS 3.5.
Redefining Ray Reconstruction
The focus of DLSS technology is on ray tracing, harnessing the power of AI and deep learning to enhance and sharpen scenes without overburdening your GPU. Result? Better frame rates and an overall improved gaming experience. However, ray reconstruction aims to take this a step further by addressing the artifacts that can sometimes degrade the experience in ray-traced games. While frame rates are undoubtedly important, the quality of in-game visuals is equally important.
Traditional "hand-tuned denoisers" have historically been employed to fill in missing pixels during ray tracing, although with the potential for ghosting and other issues, as in Nvidia's DLSS 3.5 depth detection. The innovation with DLSS 3.5 includes moving away from these manually fine-tuned denoisers.
Instead, DLSS 3.5 pivots to an "NVIDIA supercomputer-trained AI network" designed to generate higher-quality pixels. Given Nvidia's prowess in AI, exemplified by the Grace Hopper super chip, this change holds immense potential for gaming visuals.
AMD's Perspective
While AMD claims its own FSR3 technology, it is important to acknowledge that Nvidia remains the leader in AI-powered graphics. For gamers aiming to maximize performance in titles like Cyberpunk 2077 and other games that use DLSS 3.5 (including Alan Wake 2, Lies of the P, Party Animals, Chaos Vantage, and Portal with RTX), DLSS 3.5 emerges as a compelling option.
Additionally, Nvidia Omniverse, the company's dedicated development platform, fully supports DLSS 3.5.
DLSS 3.5 for RTX 30-series cards
The good news for current RTX 30-series card owners is that DLSS 3.5 will extend its support for these last-gen cards. Nvidia has confirmed that DLSS 3.5 will be accessible on all RTX graphics cards, ensuring broad reach and making the DLSS 3.5 experience inclusive.