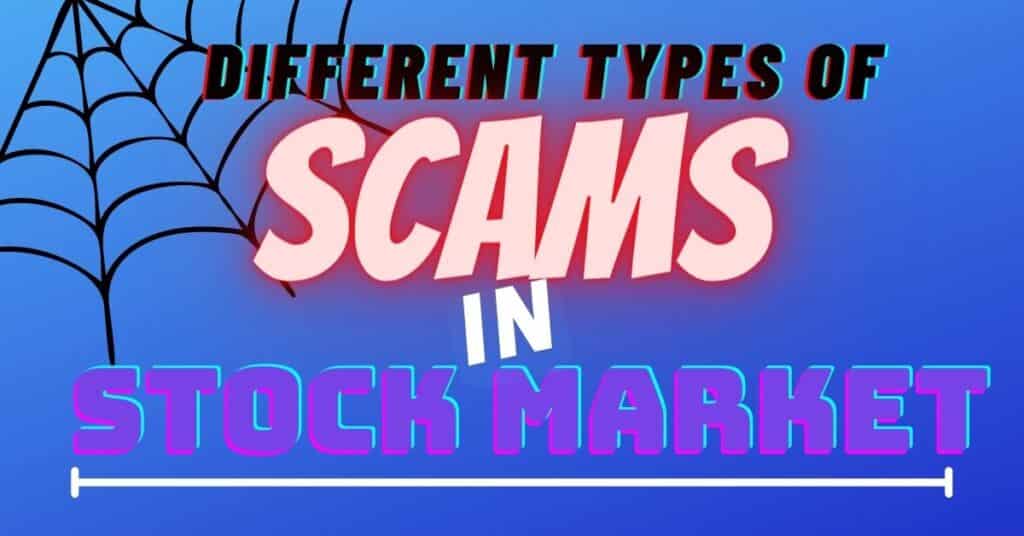 Today in this blog I am going to show you different types of scams in the stock market through which the stock market is manipulated. I am going to share this with you all so that you can save yourself from the different types of scams in the stock market and could save your hard-earned money from the market manipulators.
You must have heard about SEBI. SEBI regulates the stock market of India and is responsible to make laws so that market manipulation could be stopped. But even after several laws and restrictions these market manipulators somehow find a way to manipulate the market. And due to this innocent individual investors has to suffer a lot as they become the victims of such manipulations.
So read out this blog completely so that you can save yourself from these scams.
1. Stock market manipulations by the company's promoters
Sometimes the owners of the company manipulate the stock price of their own company. What they do is that they spread rumors about their own company. Let us understand this by an example. 
Suppose there is a company A and the owner holds a 30 percent stake in his company. Now if the promoters wish to increase their shareholding in the company. Then what they can do is, they can spread negative sentiments about their own company.
 To do this they can give some money to a media house. (note I am not saying that all media houses take the money and publish fake news but some media houses do this ). They can say a media house to publish a negative news about the company. So once this negative news of the company reaches the innocent retail investors then they get influenced by this. And in fear that the stock price of the company can fall due to this negative news. They sell their holdings from that company.
Thus the share price of the company falls. Then the promoters of the company increase thier holding at a discounted price. After increasing his shareholding they issues a press release that whatever was published in the news was just a rumor and there is no such issue in the company. Thus the retail investors are cheated and the promoters make a profit by buying the stocks at a discounted price.
So the question is how you can save yourself from investing in such companies?
So if you want to save yourself from such companies then before investing in any company check the following thing.
Check the past news of that company. To check the past news of the company you can visit any stock market screener website. You can visit ticker.finology.in and there search for the company in which you want to invest. Go to the news section and check for any negative news. See that if after that negative news the promoters have increased their holding or not.
To see the shareholding of the promoters go to the shareholding section. If they have increased their holding then check whether they have clarified that the news was fake or not?  If you get the answer to all the questions in 'yes' then it's most probable that the promoters are manipulating the stock price of their own company. So stay away from these companies.
You should never invest in such companies where the management is not honest.
A small gift for you🥳: Review your college and get Rs. 100 on your Paytm wallet. Click here to review.
2. Don't believe in insider information
First of all, you should note that leaking insider information is illegal. SEBI has made very strict rules for this.
If from somewhere you get to hear about the insider information. Then don't believe it. As that information is made to reach out to you and they are completely fake. So that you invest your money in that company. This is strategically done by the stock market manipulators to rise the stock prices, When the stock price rises then at once they sell their entire holding and make a profit out of it. But the retail investors get trapped in this and they have to bear the losses.
So don't believe in any insider information or any tips. Do your analysis and research about any stock and then decide to invest in that.
3. Fake branding of the company
If you see that a lot of influencers have suddenly started endorsing any particular company. And all are delivering very promising messages about the company that shows that the company is soon going to perform very well. Then it is most probable that something is going wrong and misleading so don't invest even a single penny in that company.
As you can think that a company that has no existence before. But suddenly it starts to get so much exposure and limelight within a few months. It can't happen that previously the company was performing average but suddenly everything changed in that company within a couple of months.
So don't believe in all the influencers blindly. Follow them but don't have blind faith in them, especially while making financial decisions. Cross-check the facts and news and then take your decision.
Conclusion
So these are the common tricks that are used by the manipulators to manipulate the market. So the main conclusion of this blog is that don't get influenced by anyone while making your investment decision. As the stock market is full of fraudsters and they always try to bluff the individual retail investor.
The only way you can escape from them is that keep yourself educated and well informed. Do your own research about any company. You see now researching about any company has become easy. There is various stock market screener website such as ticker.finology.in where you get the complete information about that company.
The best way to eliminate risk from anything is to get knowledge of that. So keep reading such informative blogs and enhance your knowledge about the stock market so that you can have a profitable investment journey.
Attention: I have made a community for the student to guide them about the stock market, and personal finance if you want to get guidance from me then click the button given below and join me.